Your Starbucks run just got even easier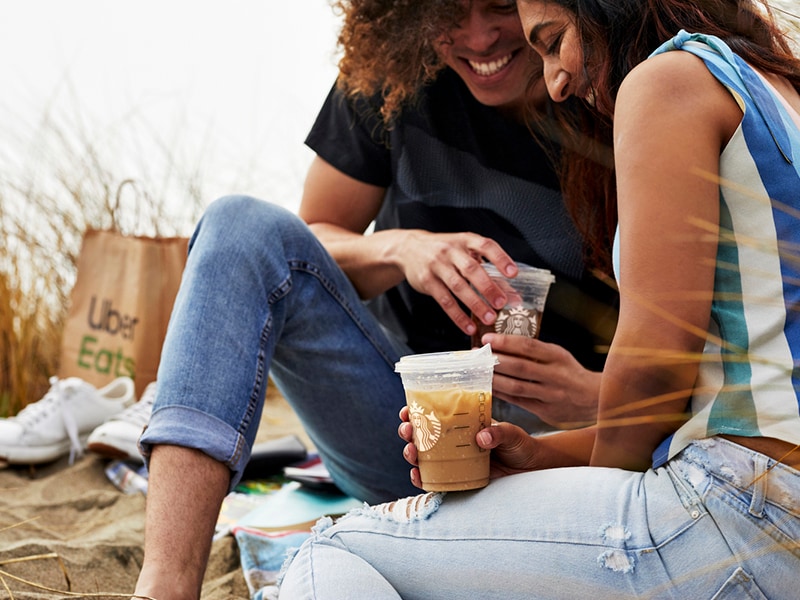 Delivery is now available in select cities across Canada. Dive right in – here's how:
1.  Download the Uber Eats app.
2.  Find the closest Starbucks locations and build your order the way you want it.
3.  Sit back and relax while Uber Eats brings it to you!
Frequently asked questions
How do I order Starbucks Delivery?

To get started, simply
click here
and complete your order through the Uber Eats app.
Can Uber Eats deliver the full menu of items available at my local Starbucks® store? 
To maintain the high standards of quality and consistency we know you expect from us, we've optimized our menu for delivery. Consequently, select food and beverage items are currently unavailable for delivery.
When are you coming to my city?
We will begin delivering Starbucks with Uber Eats from over 500 stores across Ontario, British Columbia, Alberta, Nova Scotia, Winnipeg and Saskatoon in mid-August.
Can I pay for Starbucks® Delivers with my Starbucks Card or app? 

Paying for delivery with a Starbucks Card or app isn't supported at this time, and orders are not eligible for Starbucks® Rewards benefits. We encourage you to use your Uber Eats app to order for delivery; you can always use the Starbucks® app to order ahead with Mobile Order and Pay and pick up your treats at a participating store. Learn more about Starbucks® Rewards benefits
here
.
What do I do if I have an issue with my delivery?
Please reach out to Uber Eats customer service at 1-800-616-9156 or go to the Help section in the Uber Eats app to report any issues or make changes to a live order.
What if I want to pick up my order in the store?

You can still order on the Starbucks app with Mobile Order and Pay, and pick up your favourite treats at a participating store. Click
here
to learn more.
Menu limited. Restricted delivery area. Fees subject to change. Prices for Starbucks® items delivered through Uber Eats may be higher than posted in stores or as marked. See the Uber Eats app for details.